Summer 2017 Outdoor Soccer - Social Leagues Soccer
Join us on the pitch this season!
Each season consists of at least 8 games over about 10 weeks, depending on playoff schedule, holidays, and weather. All leagues are open to both men and women; there is no requirement for a certain number of either gender to be on a team or field at any time (except for Coed leagues), and all goals count the same. Each league is designated either Competitive or Social. Social leagues focus more on the fun, recreational and networking aspects of the game. Competitive leagues are for players with prior soccer experience looking for intermediate/advanced play. View all of our past League Champions or 7v7 League Rules.
Want to join a team by yourself or with friends?
Register as a "Free Agent" and we will place you on a team, GUARANTEED! This is a great way to meet new people, and many of our returning teams started as a group of free agents. If you and a friend want to play on the same team, register as Free Agents and then write each other's names in the "Teammate or Team Request" box during registration. If you have more than a couple of friends interested in playing together, register as a "Small Group Member" and then have your friends do the same under your Small Group listing.
Want to start your own team?
Read our Tools for Team Captains page which outlines two options for captains to register their team and manage their season dues.
Note that in order to take advantage of regular pricing, a team's fee must be PAID IN FULL before the late pricing period begins, otherwise the total team invoice will increase to the next price level (the deposit will still reserve a league spot and be applied to the total balance).
Want to switch your team to SOPFC from another Atlanta soccer league? Ask us about a first season discount up to $100!
Supporters Club League Info
Our Supporters Club League is a way to enjoy weekend soccer while supporting your favorite club team!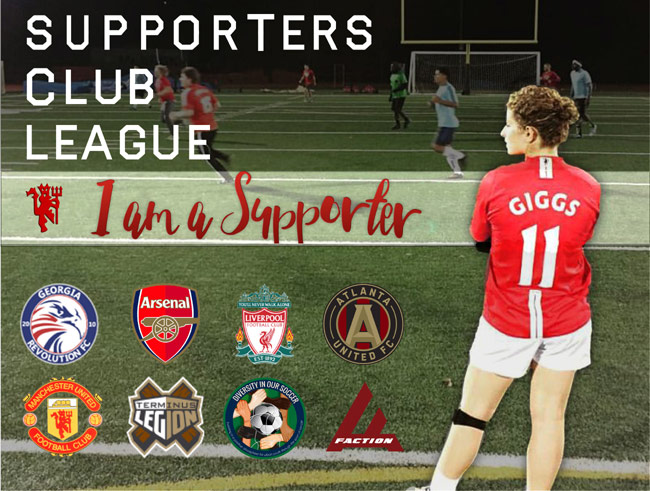 The concept is simple: each team in the league represents a professional club team (or local club/organization), and all Atlanta soccer players of any skill level are invited to choose which team to join and play for! It's a lot of fun, and a great way to meet other supporters in Atlanta and discuss the weekend's club games. Even if you're not a supporter of any particular club, and just want to play on Sundays, feel free to join the league as a free agent and we will find a team for you - it is just as much a social league to meet new people and enjoy playing the beautiful game.
We typically have several club teams to choose from including:
Arsenal
Liverpool
Manchester United
Napoli
Real Madrid
Tottenham Spurs
To join a team, just register and pay as a free agent, and then specify which club team you'd like to play for in the "Team/Teammate Request" box during registration. We'll add you to that team and send out your team's schedule and details. If you'd like to start a new club, register as a Team Captain to get it started!
Questions? We can help!
Want to start a team? Need additional players for your team? Email info@sonsofpitchesfc.com and we'll be happy to help. Don't see the type of league you want or specific day you're looking to play on? Let us know! SOPFC is Atlanta's largest intown adult soccer league and we're continually activating new fields and expanding our leagues to accommodate more teams.
---
Team Fees

Regular

695.0 per team

Late

740.0 per team

Free Agent Fees

Regular

70.0

Late

75.0

Team Fees

Regular

695.0 per team

Late

740.0 per team

Free Agent Fees

Regular

70.0

Late

75.0

Limited Spots

Team Fees

Regular

695.0 per team

Late

740.0 per team

Free Agent Fees

Regular

70.0

Late

75.0

Team Fees

Regular

695.0 per team

Late

740.0 per team

Free Agent Fees

Regular

70.0

Late

75.0