Monday Competitive 7v7 Soccer (Winter 2016) Soccer · Any Competitive
Mon
TueWedThuFriSatSun
between 8:15pm and 10:15pm
8-Week Season
Team Fees

Early Bird

650.0 per team

Regular

650.0 per team

Late

650.0 per team
Free Agent Fees

Early Bird

55.0

Regular

65.0

Late

75.0
Monday Competitive 7v7 Soccer League Details
Winter 2016 games are scheduled to play at 8:15pm and 9:15pm at Maynard Jackson High School on brand new artificial grass turf fields. Turf shoes or regular grass cleats are recommended.
League format: 7-game regular season, plus 1 guaranteed playoff game.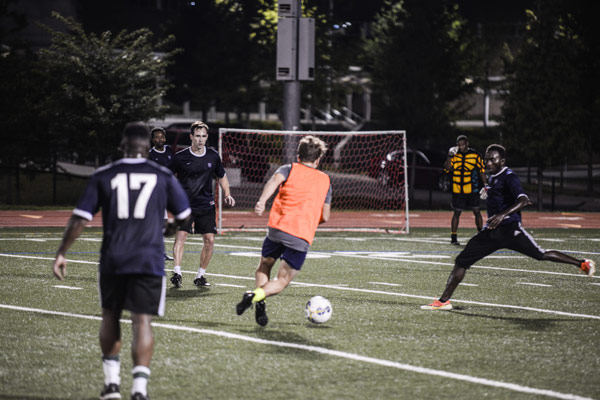 Join us on the pitch this season!
Each team will play a minimum of 8 games per season. Seasons generally last 8 to 9 weeks, depending on the league format, holidays, or weather cancellations. We occasionally schedule doubleheaders or bye weeks due to scheduling issues. Please check your team or league schedule page prior to the start of the season.
All leagues are currently open to both men and women; there is no requirement for a certain number of either gender to be on a team or field at any given time, and all goals count the same. Leagues with more than one division will promote/relegate the top and bottom two teams at the end of each season. We reserve the right to combine leagues, move teams based on past performance or standings, and move leagues or divisions to an alternate nearby location based on field availability.
Each league is designated either Competitive or Social. Social leagues focus more on the fun, recreational, and networking aspects of the game. Competitive leagues are for players with prior soccer experience looking to sharpen their skills. Note that slide tackling is not allowed in any of our leagues.
View our League Rules page here for all 7v7 soccer rules.
Want to join a team by yourself or with a couple of friends?
Register as a "Free Agent" and we will place you on a team, GUARANTEED! This is a great way to meet new people, and many of our returning teams started as a group of free agents. If you and just a couple of friends want to play on the same team, register as Free Agents and then write their name(s) in the "Teammate or Team Request" box during registration so we can make sure to place you on the same team.
If you have more than a few friends interested in playing together, consider starting your own team; we can help you fill your team with other Free Agents, and apply their registration fee to your team fee.
Want to start your own team?
Register as a "Team Captain" to start a new team and save money per player! After your team is set up, you can invite friends to join your roster through your Team Dashboard or Facebook. There is a $150 deposit required during registration for a new team captain to reserve a team spot. Captains are responsible for making sure the team fee is PAID IN FULL prior to the start of the third game. Typically, captains choose how many people to add to their roster, divide the team fee evenly between all players, and then collect individual payments from each player (Venmo and PayPal can make it easier).
Feel free to contact us if you'd like help or tips as a new captain.
Questions? We Can Help!
Have questions about the league? Want to talk about starting a team? Need help finding more players? Email info@sonsofpitchesfc.com and we'll be happy to help.