Whether you're starting a new team, getting ready for your first season, or going on your 5th championship, we know firsthand that as a Captain, it takes time and patience to manage your team. Below we've outlined how to pay your team dues, manage your team, and find players. 
Want to switch your team to SOPFC from another Atlanta soccer league? Email info@sonsofpitchesfc.com for a $100 first season discount!
---
Paying Your Team Dues
To reserve your team's spot each season, sign up as a "Team Captain" and pay your team dues online.
The Captain can either pay the entire team balance up front, or pay a $150 deposit by the registration deadline and the remaining balance anytime before kickoff of the third game. 
Each season's registration deadline is one week prior to the scheduled season start date. To take advantage of regular pricing, a team's dues must be PAID IN FULL by the registration deadline, otherwise a small fee will be added to the total invoice (the deposit will still hold the team's spot and be applied to the total balance). Only the Captain can make payments toward the team balance, through the invoice on their online dashboard.
Captains typically have their players pay them back personally via Venmo or cash. 
---
Managing Your Team
Below are some common questions and methods for managing your team each season.
How do I add players to my team roster online?
Log in to your Dashboard > Manage or Add Players > Copy or Invite Players at the top.
Bulk copy players from previous teams/seasons you've captained to new teams/seasons. 
Only Captains can manage/add players. If you need to remove players on your roster, just email us their names.
What are the best ways to keep track of my players?
Log in to your Dashboard > Manage or Add Players to view all your roster players and their emails.
Message players directly from your Dashboard, or click "Messages" on the left sidebar to send a message to the whole team.
Copy and use this "Team Roster Template" Google sheet we created if you'd like to opy it and keep a more personal roster including all contact info, positions, and payment status of your players.
What are the best practices for collecting money from team players?
If you're using the Standard Payment Plan, and collecting money from your players personally to pay off your total team dues, we recommend having your players pay you via Venmo or PayPal prior to the season start, or by bringing cash to the first game they play. The sooner you can secure a financial commitment from each player, the more invested they will be in showing up and contributing to the team in a positive way.
When and how should I remind players of upcoming games?
Players who have accepted an email invitation to join your team roster online will receive automatic game reminders 2 days prior to each game with the date, time, location, and links to RSVP Yes/Maybe/No for that game. This is one reason it's important to add all players to your roster every season! When a player RSVPs for a game, the response will be emailed immediately to the Captain.
Additional player reminder methods:
Use Dashboard "Messages" tab on left side of team page
Send group emails to all teammates
Add teammates to GroupMe app
Text message players on game days
---
Finding Players for Your Team
1. Nextdoor Online Community
Recruit players on Nextdoor, a free private social network that connects you with people in neighboring communities based on your home address. It's quick to sign up for, and each post here will reach anywhere from 2,000 to 20,000 people in your nearby neighborhoods. We know Captains who've used Nextdoor to recruit enough players over the course of a week to form a whole team, from just one post!
Here's how to find players:
Sign up at Nextdoor.com
Create a new post asking for interested soccer players to join your team
Use a team photo or photo from your league's details page to help attract attention
Make sure to link to your specific league (e.g. Saturday Coed Summer 2017), so people can find out more info first
Here's an example of an actual post used to help build a team: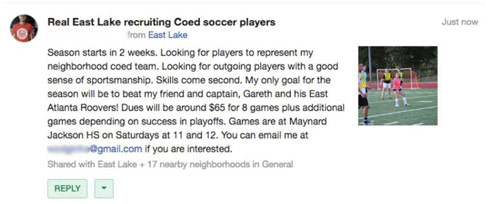 2. SOPFC Clubhouse Facebook Group
Post player requests in SOPFC's "Clubhouse" Facebook group, a place for players, teams, and Captains to connect. You can post requests for new players, subs for games when you may be short players, etc. Anyone can read the posts on the Clubhouse, but you must request to join the group in order to create a new post. We approve everyone who requests to join, usually within a couple of hours or so.
Everyone in the group has actively expressed an interest in playing or joining an SOPFC team at some point, so it's a pretty receptive audience.
3. Atlanta Pick-Up Soccer Facebook Group
Post player requests in the Atlanta Pick-Up Soccer Facebook group, created by a friend of SOPFC to help people find pickup games in the Atlanta area. In addition to finding pickup games, people post requests for new players or subs for games here. You can probably post something similar on here and the SOPFC Clubhouse group.
4. Friends and Co-Workers
Ask friends and co-workers to play! Word of mouth is still one of the most reliable ways to recruit new players. Have your players mention to their co-workers that they're looking for another team player, or post on their Facebook to see if any of their friends might want to join. Most teams find at least 2-3 new players every season this way.
5. Pickup Games
RSVP for an SOPFC pickup game and invite players there to join your team! SOPFC offers daily pickup games through our Meetup group, and many of these players want to play in our league too. Although some players may register to play on their own as free agents, there are often players who would prefer to meet a Captain at the field and be invited directly to a team. Playing pickup with potential players also helps you find out which players would be a good fit for your team.
There are a lot of great players at pickup, so consider RSVPing on Meetup for an upcoming session and inviting some folks there to join your team - it's a very friendly crew of people.
---
Questions or Additional Help
Have any questions about forming or managing your team? Drop us a line anytime at info@sonsofpitchesfc.com and we'll be happy to help.
Feel free to also email us if you want to share any other tips for finding players as a Captain for this page, or have any feedback for us!