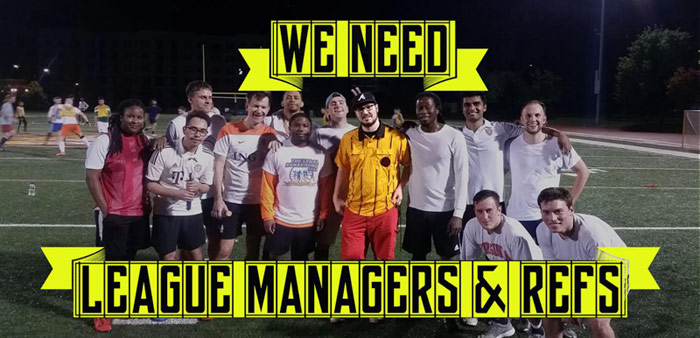 Put your love of soccer and community to work!
SOPFC is actively recruiting energetic and hardworking people for paid positions as League Managers and Referees. We're looking for reliable, responsible men and women who are passionate about soccer to help manage, organize, promote, and referee our leagues, pickup games, and other events. We are on a mission to expand and unite the soccer community in Atlanta, and we need your help to keep pace with our rapid growth!
To apply for one of our open positions below, please fill out our interest form at the bottom of this page.


League Managers
Responsibilities:
Set up and breakdown fields before and after games
Handle all on-site player payments
Handle on-site customer service issues
Oversee referees and enforce league/facility rules
Recruit new players for leagues
Pick up and drop off any necessary equipment or other items
Prepare any injury reports
Alert SOPFC staff of any issues that arise during games
Required Qualifications:
Timeliness and reliability
Professionalism
Strong knowledge of soccer
Good communication and leadership skills
Ability to handle emotional situations
Good decision maker
Referees
Responsibilities:
Officiate adult league soccer games
Resolve any issues arising during games
Enforce league rules and regulations
Identify and resolve safety issues
Required Qualifications:
Prior experience as a soccer referee or strong knowledge of the game/rules of soccer
Timeliness and reliability
Professionalism
Ability to deal effectively with large groups of people
Ability to handle emotional situations
Join Our Team
If you feel you'd be a good fit for any of our positions, please fill out the interest form below to apply. We look forward to hearing from you.