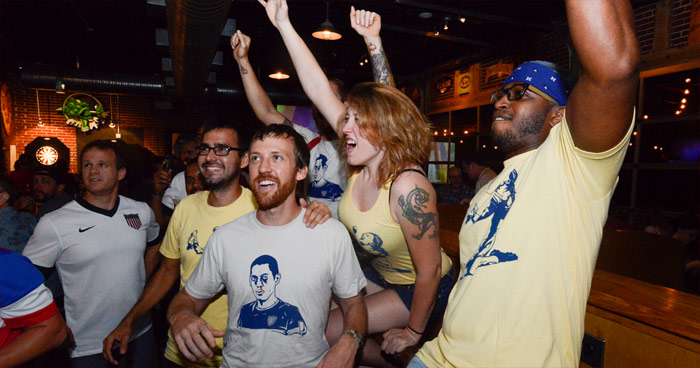 Put your love of soccer, teamwork, community, and meeting new people to work! SOPFC's Promo Crew makes sure games run smoothly and helps promote leagues and answers questions from players. The ideal crew member will be passionate about soccer, reliable, and responsible. This is an opportunity to have fun, work with other soccer fans, and meet new people! If you're new to Atlanta, we'll introduce you to a great group of folks.
To become a Promo Crew member, please fill out our interest form at the bottom of this page.
SOPFC is on a mission to grow and unite the soccer community in Atlanta.
We are committed to making soccer convenient and accessible for the entire community, by fostering a shared passion for the sport, and providing dedicated active spaces for the game. Joining the Promo Crew is an easy way to support a growing soccer movement in Atlanta, get involved with the community, and support an active lifestyle.
Plenty of opportunities to grow with the club.
As SOPFC continues to expand in the Intown Atlanta area, including new downtown permanent rooftop soccer facility plans underway, we will be filling new operational and management positions. Qualified candidates who have worked with our Promo Crew will receive preference. This is also a great chance to network with soccer and community leaders, both corporate and civic.
Internship credit for students.
If you are a student interested in sports, marketing, management, community outreach, or any related field of study, this is a great opportunity to receive internship credit with your school. We will work with your college or university program to establish internship credit for your work.
Responsibilities
Help ensure games run smoothly and address any player questions/concerns
Assist the League Manager with organizational tasks at leagues and pickups
Help set up and breakdown fields including goals, cones, corner flags, and tables.
Participate in special soccer-related events (yes, playing soccer counts as work!)
Assist planning of upcoming soccer or community events.
Pass out SOPFC promo flyers during soccer and special events
Collect emails for petitions or club signups
Establish relationships with bars and place flyers
Recruit new players for league play
Perks
SOPFC Promo Crew members who show up early to help run our league and pickup games may join that day's pickup session free of charge after everyone is checked in and playing, typically 30 minutes after the scheduled start. Promo members also receive a free SOPFC t-shirt, and free or discounted tickets to soccer games, rooftop tournaments, community events, and more. Members who show up regularly may also receive discounted fees to play in our leagues.
Join the Crew
Tell us more about yourself, your connection to soccer, and your info and availability below.