3v3 Rooftop Soccer Tournament: Sept 18-19, 2015
Event is open to both players AND spectators - bring your friends and party on the roof downtown at 98 Cone St 30303! Enjoy live DJ sets throughout the tournament, food vendors & fresh produce, a soccer graffiti art show, Xbox FIFA 16 stations, beautiful skyline views and more.
Register to play in the tournament here!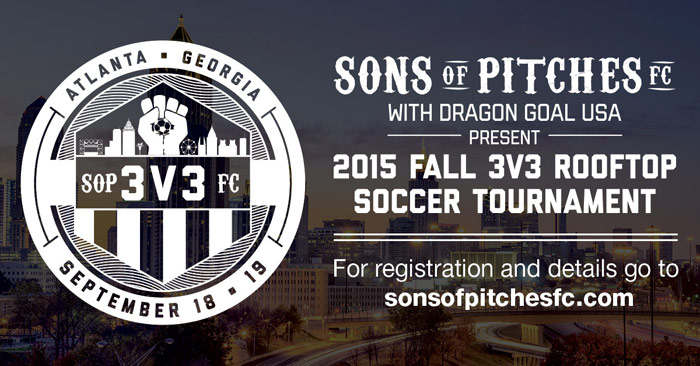 Event Details
Join SOPFC and Dragon Goal for Atlanta's Second Rooftop Soccer Tournament on Friday and Saturday, Sept 18-19, 2015 at 98 Cone St in Downtown Atlanta, near the SkyWheel and Centennial Olympic Park. Play the beautiful game surrounded by beautiful skyline views of Atlanta!
The event is FREE to the public to attend and watch! Bring your friends and come enjoy the party. Watch the games, hang out on the roof, enjoy local food, listen to music by DJ Pattycakes, play FIFA 16 on Xbox stations, snap photos at the rooftop photo booth, watch performances by street soccer jugglers and a live graffiti artist, and take advantage of drink ticket specials for the afterparties at Sidebar next door. View video highlights of our Spring 2015 Rooftop Tournament here.
Team spots will SELL OUT THIS WEEK, so don't wait to register below! Choose from four tournaments: Friday night competitive, Saturday morning social, Saturday afternoon competitive, and Saturday night social. Feel free to register for multiple tournaments. For instance, maybe you want to register a Sat afternoon team with your friends, and then play the nighttime social tournament as a free agent to meet other players.
Go to our Tournament Registration page here.
Register as a team captain and then invite friends to join your team, or register as a free agent and we will place you on a team of 6 players (a great way to meet new people!). All tournaments are open to both women and men; there is no requirement for a certain number of either gender on the field at a given time.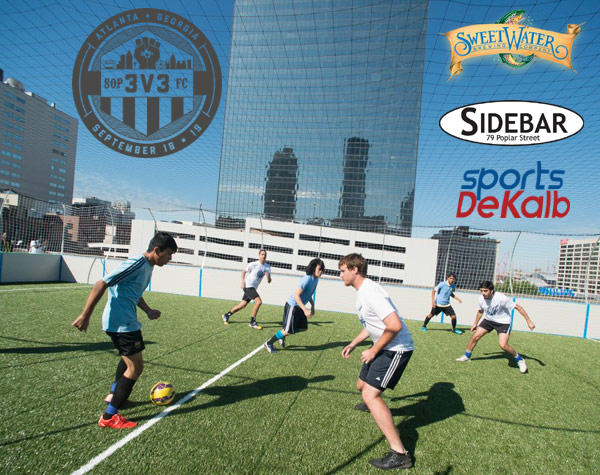 Registration Includes:
Entry into the tournament
Three guaranteed games with trained referees
Professional team photos
Chance to win first and second prizes including gift cards to local restaurants/bars
Games
Games are played with 3 players from each team at a time inside the Dragon Goal, and each game consists of two 7-minute halves and a 2-minute halftime.

Roster Limit & Subs
Each team may have up to 6 players, which means you may have up to 3 subs ready to come in. You may substitute during any stoppage of play, as many times as you'd like during a game. Small-sided games involve a lot of non-stop action, so we recommend having subs - you'll need them!

Tournament Format
Each team plays a group stage round robin (3 games), earning 3 points for a win, 1 point for a draw, and 0 points for a loss. The team with the most points from each group moves on to the semifinals, followed by the championship!