SOPFC - Atlanta Soccer Leagues & Pickup Games
Sons of Pitches FC is the largest intown soccer league, and the fastest growing soccer community in Atlanta! Join a 7v7 adult soccer league, play pickup games, compete in rooftop tournaments, and connect with other soccer fans at our soccer and social events.

Fall 2016 3v3 Rooftop Soccer Tournament

We appreciate all your support for the third Rooftop Soccer Tournament hosted by SOPFC and Dragon Goal! To all of the players, staff, volunteers, sponsors, and spectators, thank you for making this another successful, exciting, and unique soccer event in Atlanta.

We hope you enjoyed some incredible displays of small-sided skill, lots of friendly competition, and of course the views of Midtown, Downtown and Buckhead.

With your help, we look forward to creating more innovative ways to turn underutilized intown space into active spaces to play soccer.

'Til next time... check out our 7v7 Leagues and Daily Pickup games for year-round action.


  Join Our Daily Pickup Games!

   - Mon-Wed nights in Glenwood
   - Thursday nights in Glenwood/Grant Park
   - Friday nights in Glenwood
   - Saturday mornings in Glenwood
   - Sunday mornings in Glenwood
   - Sunday evenings in East Lake



  Current 7v7 League Schedules

   Sat Coed | Sun Social | Mon Competitive
   Mon Coed | Tues Competitive | Wed Social
   Thurs Over-30


  We're Hiring!

  Referee and league manager positions are
  open. We're looking for energetic,
  hardworking people to join our team.

Register for Winter 2017 7v7 Soccer Leagues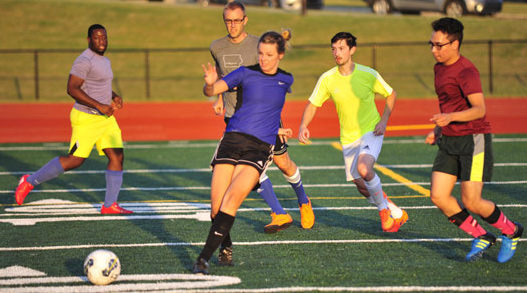 Join one of our 7v7 competitive, social or coed soccer leagues played Sat thru Thurs. Register as a "Captain" to form a team with your friends, or register as a "Free Agent" to be placed on a new or existing team guaranteed. As a Free Agent you can also request to play on the same team as your friends.
Winter League registration is open - sign up now!
Want to play soccer?
Sign up for a Winter 2017 season now!
Get league details and registration info below.
Email Us:
7v7 Atlanta Adult Soccer Leagues Include:
10-Week Seasons
8 Games Guaranteed
50-Minute Games
Turf and Grass Fields
All Essential Equipment
Trained, Paid Referees
Quality Match Balls
Water & Other Assorted Items
League & Event Updates:
Weather Hotline:
Call 678-726-1116