SOPFC - Atlanta Soccer Leagues & Pickup Games
Sons of Pitches FC is the largest intown soccer league, and the fastest growing soccer community in Atlanta! Join a 7v7 adult soccer league, play pickup games, compete in rooftop tournaments, and connect with other soccer fans at our soccer and social events.

Play our 3v3 Rooftop Soccer Tournament!

Join SOPFC and Dragon Goal for Soccer on the Rooftop in Midtown ATL! Take on other competitive or social teams in small-sided, fast-paced arena soccer action surrounded by incredible views of Midtown, Downtown and Buckhead.

Grab up to 5 friends and register a team now. Each player will receive a 2016 Rooftop T-shirt free with their team's registration. Last year's Fall tournament in Downtown Atlanta featured 56 teams and over 1,000 participants and spectators.

TEAM SPOTS WILL SELL OUT - DON'T WAIT TO REGISTER. Choose from five different 4-hour tournament sessions Fri-Sun, Nov 4-6.


  Join Our Daily Pickup Games!

   - Mon-Wed nights in Glenwood
   - Thursday nights in Glenwood/Grant Park
   - Friday nights in Glenwood
   - Saturday mornings in Glenwood
   - Sunday mornings in Glenwood
   - Sunday evenings in East Lake



  Current 7v7 League Schedules

   Sat Coed | Sun Social | Mon Competitive
   Mon Coed | Tues Competitive | Wed Social
   Thurs Over-30


  Join Our Promo Crew!

  Help us grow SOPFC and Atlanta soccer!
  We're looking for soccer fans who
  want to network and help run leagues.

Register for Fall 2016 7v7 Soccer Leagues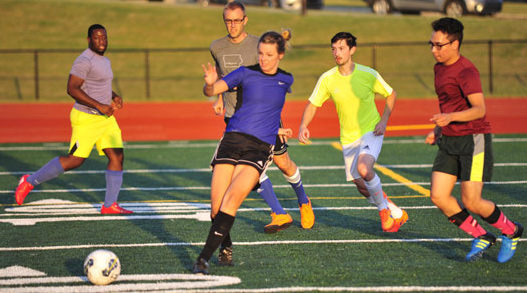 Join one of our 7v7 competitive, social or coed soccer leagues played Sat thru Thurs. Register as a "Captain" to form a team with your friends, or register as a "Free Agent" to be placed on a new or existing team guaranteed. As a Free Agent you can also request to play on the same team as your friends.
Fall League registration is open - sign up now!
Want to play soccer?
Sign up for a Fall 2016 season now!
Get league details and registration info below.
Email Us:
7v7 Atlanta Adult Soccer Leagues Include:
10-Week Seasons
8 Games Guaranteed
50-Minute Games
Turf and Grass Fields
All Essential Equipment
Trained, Paid Referees
Quality Match Balls
Water & Other Assorted Items
League & Event Updates:
Weather Hotline:
Call 678-726-1116