Fall 2016 3v3 Rooftop Soccer Tournament (Nov 4-6) Soccer
Join SOPFC and Dragon Goal for Soccer on the Rooftop!
Play the beautiful game surrounded by incredible views of Midtown, Downtown and Buckhead, directly overlooking I-75/85 on the west side of the roof!
Register to play at the bottom of this page.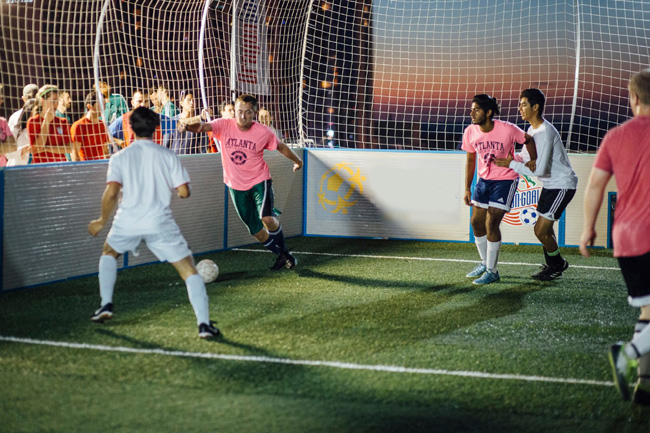 Portable Dragon Goal turf soccer fields (with top netting!) will be set up on the rooftop of the 8-story Centergy parking deck building at Tech Square in the heart of Midtown Atlanta, 815 Williams St 30308. This will be SOPFC's third rooftop soccer tournament. Last year's Fall tournament in Downtown Atlanta featured 56 teams and over 1,000 participants and spectators - view photos on Facebook here. This year will be even bigger and better than before, thanks to support from our partners below!


Choose from five different tournament sessions Fri-Sun, Nov 4-6:

Players may register and play in as many tournament sessions as they'd like. Each session requires a separate registration and fee. Registration INCLUDES a free 2016 Rooftop Tournament T-shirt!
Last Fall's Rooftop Tournament SOLD OUT - Don't wait to register below, Team and Free Agent spots will fill quickly!
Register as a Team Captain and then invite up to 5 friends to join your own team (no additional player fees required), or register as a Free Agent and we will place you on a team with 5 other players, a great way to meet new people! There will be a max of 16 teams per tournament, except Friday is max 8 teams.

FOX5 coverage from our Fall 2015 tourney
Registration Includes:

Entry into one 4-hour tournament session
Three guaranteed games with trained referees
2016 Rooftop Tournament T-shirt
Championship trophy for team winners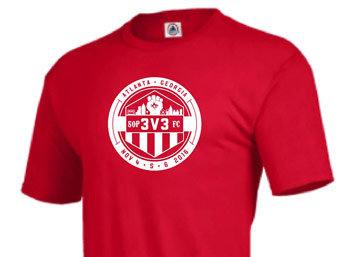 Games
Games are played with 3 players from each team at a time inside the Dragon Goal, and each game consists of two 7-minute halves and a 2-minute halftime.
Roster Limit & Subs
Each team may have up to 6 players on their roster, which means you may have up to 3 subs ready to come in. You may substitute during any stoppage of play, as many times as you'd like during a game. Small-sided games involve a lot of non-stop action, so we recommend having subs - you'll need them!
General Rules
There is no shoulder or wall checking and contact must be kept to an absolute minimum. Play fair, be respectful, and have fun! The "competitive" tournament designation simply means that the skill level of players will generally be higher than "social" - it does NOT mean that more aggressive play will be tolerated. Small-sided soccer is a game of finesse, it's not "hockey soccer." Referees will issue yellow and red cards for unnecessary or excessive contact. Players receiving two yellow cards or a red card will be ejected from the tournament and escorted by security off the rooftop premises without a refund. Please come with a sportsmanlike attitude and help keep your teammates thinking positively :)

Tournament Format
Each team plays a group stage round robin (3 games), earning 3 points for a win, 1 point for a draw, and 0 points for a loss. In a bracket of 16 teams, the team with the most points from each of 4 groups moves on to the semifinals, followed by the championship!
---